My Manuscript Wish List
Sharon Pelletier joined DG&B in 2013 after working for Europa Editions and Barnes & Noble, and was named senior agent in 2021. Born and raised in the suburbs of Detroit, Michigan, Sharon moved to New York in 2009 but still has a soft spot for the Midwest. While her interests are broad, Sharon is especially seeking upmarket fiction, including smart, complex women's fiction; hearty, unforgettable book club fiction; and unexpected suspense fiction. On the nonfiction side Sharon is eager for compelling, fierce narrative nonfiction by journalists and experts, and emerging voices with a growing platform who can speak to pop culture, feminism, crime, social justice, and/or religion.
Fun facts about me:
Likes: white wine, stretchy pants, nieces and nephews, resilient houseplants
Dislikes: authors who don't check query guidelines, the patriarchy
Submission Guidelines
Submissions should be emailed to spelletier@dystel.com

Please see link below for DG&B's full submission guidelines; personally, I prefer queries by email with cover letter in the body of the query and first 25 pages below. Please allow 8 weeks before following up on queries, and two months before following up on requested manuscripts (unless of course you've received an offer of representation on a MS I've requested - in that case, congrats and please do let me know asap!).
Guidelines & Details
Vital Info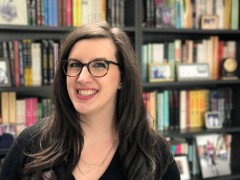 I'd like the next...
Currently thirsty for:
Hearty novels full of joy, bringing an uplifting reading experience while still engaging substantive issues of contemporary life with honesty and nuance.
Would love to find really moving book club fiction exploring a big sibling family with complexity and drama. Brothers & Sisters was been a quarantine binge of mine: Give me Brothers & Sisters drama with Ann Patchett's thoughtful elegance and/or LUSTER's whip-sharp darkly funny honesty.
Unexpected, elevated love stories.
FICTION
The key to fiction, for me, is VOICE and STAKES! While I prioritize craft and am quite editorial, I value propulsive storytelling over artful reflection. I'm looking for that can't put it down effect when I read your sample pages. My taste is the nebulous upmarket: not super literary, not super commercial, just right. Craft meets plot and makes a perfect porridge. Things I am eager for include:
Juicy, hearty, smart-but-not-precious women's fiction telling a story **outside** suburban white ladies or malaise-bound 20 somethings in NY and LA. Love to see career be truly meaningful in the character's journey like THE HERD and THE OTHER BLACK GIRL (though those both lean suspensey). Would love to see new relationships explored other than spouses, mothers, childhood besties.
Rich, thoughtful book club fiction like ASK AGAIN YES by Mary Beth Keane, TRANSCENDENT KINGDOM by Yaa Gyasi, Leesa Cross-Smith, Elizabeth Gilbert.
I love revisiting a classic or myth like HOME FIRE by Kamila Shamsie does--truly reimagining, not just retelling. Bonus points for finding an unsung character to bring us through the story.
Smart vacation fiction that explores career, friendships, not just love and romance. I also love a sense of humor with poignancy, like Katherine Center's delightful books, or the sensationally fun QUEENIE.
Suspense fiction with a fresh angle on the tropes we love. Especially excited to find underrepresented protagonists and settings we aren't used to - no more bitter hard-drinking ex-cops who can't trust anyone, please, or angry upper class wives poking into suspicious husbands and vice versa. Love suspense where setting is a vivid character as in Jane Harper and Attica Locke's novels. And where character invests, absorbs the reader alongside the plot, like Ann Cleeves and Tana French. Not super into PIs or LEOs these days--I'd rather see a character get pulled into an investigation because of the vantage point their profession offers them on other people's lives, habits, motivations. Also not super into psychologists as the peekers-into other lives, that's been very done.
I occasionally fall for a speculative element, if it's quite grounded - such as Kevin Wilson's NOTHING TO SEE HERE - but in general SFF and otherworldly, supernatural, or fantasy elements in fiction are not for me. Same goes for dystopian.
Other Not for Mes (never say never but these elements tend to be No)
Currently not seeking historical fiction
Currently burnt out on WF with a mother-daughter basis or focused entirely on marital woes
Paranormal/supernatural explanations for mysteries
Dreams, mental institutions in suspense
Substance abuse to create an unreliable narrator
Sexual violence as origin story or victimology (especially tired of suspense that opens with prologue detailing a woman getting the sh*t beat out of her)
Espionage/international thriller plots built on Islamic terrorism/suspicion thereof as the enemy
Military/political thrillers aren't my thing, especially not if they're ripped from headlines past or present
NONFICTION
I am eager for voicey nonfiction and often respond strongly to reportage with an engrossing personal element. But at this time I am not seeking memoir unless you have that trifecta of incredible writing chops, a one-of-a-kind experience, and an extremely strong platform.
Compelling narrative nonfiction - fierce reporting or an expert who's an irresistible storyteller. Journalists especially welcome! Think JUST MERCY, AMERICAN WOLF, I'LL BE GONE IN THE DARK.
Emerging voices with a growing platform speaking to the current issues most important to us, from pop culture to feminism to sports to faith. Morgan Jerkins and Rachel Syme are examples of the kinds of voices I'd love to work with.
To dial in more specifically on that: progressive faith-based voices with something fresh and challenging and/or comforting to say and a platform from which to say it. Examples: Jen Hatmaker, Austin Channing Brown, Knox McCoy
Engaging, voice-driven practical nonfiction with a fresh approach to solving a pain point in our daily lives, whether concrete or relational. A la The Home Edit, Jessamyn Stanley. Podcast or Instagram voices especially welcome in this space--personality is key.
Nonfiction topics I'm especially eager for a smart, platform-based voice on: grief (especially outside the normal trio of spouses, parents, children); friendship (friendship in your 30s, friendship in your 40s, friendship as a substantive life partnership; friendship in groups); MLMs (bonus points if you explore the intersection of MLMs and evangelicalism); chosen childlessness and pouring into other people's children (looking for my Big Idea AUNT book!!).
In any of the above categories, I'd especially welcome submissions from marginalized writers telling stories (true or imagined) about societies, struggles, situations I haven't experienced, whether that's in cultures elsewhere on the globe or right in my neighborhood.
CATEGORIES I AM NOT ACTIVELY SEEKING (never say never but these elements tend to be No for me)
Poetry
Cookbooks
Memoir w/out platform
Isn't [Politician] the Worst manifestos or Here's Why [Politician] is Actually Okay manifestos
Children's categories (picture books, MG, YA)
Fantasy
Pandemic novels
My favorites include...
TV: Schitt's Creek, Criminal Minds, Beachfront Bargain Hunt, any BBC crime drama, Frasier, Selling Sunset, Derry Girls
MOVIES: San Andreas, You've Got Mail, The Family Stone, White House Down, Something's Gotta Give, Hobbs & Shaw, Dan in Real Life, Steel Magnolias.
MUSIC: Brandi Carlile, One Direction, basically any Les Mis recording, Celine Dion, Harry Styles, Pitbull, Kelly Clarkson, Niall, The Piano Guys, Louis Tomlinson
PODCASTS: Dolly Parton's America, In the Dark, The Popcast, How Did This Get Made, The Read
CLASSICS: Les Mis, The Great Gatsby, The Secret History, Let the Great World Spin, I Capture the Castle

My Upcoming Events:
#WDC16