My Manuscript Wish List
I am actively building a list consisting of upmarket, literary, and commercial fiction, select YA and middle grade, as well as narrative non-fiction and memoir. I read widely and am on the hunt for any and all writing that provokes a strong emotional reaction, adds an important perspective to the cultural conversation or forces the reader to challenge what they think. (Or ideally all of the above!)
More specifically, I'm looking for:
Fiction that engages with contemporary social issues and the modern female experience, as well as female coming of age. Some favorites: FRIENDS & STRANGERS, TRUE BIZ, NORMAL PEOPLE, OLGA DIES DREAMING, THE MOTHERS, VLADIMIR, THE NEW ME, MARY JANE, GOODBYE, VITAMIN, WHAT WE LOSE, HISTORY OF WOLVES, MARLENA
Epic love stories!!!!!!!!!!!!!!!!!!!!!!!
Upmarket romance or rom-com. Dying to find something like GHOSTS, SEVEN DAYS IN JUNE or EVVIE DRAKE STARTS OVER.
A sweeping family saga with a compelling hook like BLACK CAKE, ASK AGAIN YES, THE LAST ROMANTICS, PACHINKO, or SAINTS FOR ALL OCCASIONS
Smart, moving stories with a touch of whimsy, like LESSONS IN CHEMSITRY, THE STORIED LIFE OF AJ FIKRY or REMARKABLY BRIGHT CREATURES
Speculative fiction that features a world like ours with a twist or just a touch of the unreal. Books like THE IMMORTALISTS, STATION ELEVEN, SEVERANCE, THE AGE OF MIRACLES, or NEVER LET ME GO
Books about books!
Suspense, or what I like to call "secrets & lies" novels. I definitely gravitate towards the dark and disturbing, and I love feeling unsettled…

Think THE PERFECT NANNY, LITTLE FIRES EVERYWHERE, THE EXPATRIATES, COUNTERFEIT, NOTES ON AN EXECUTION, GREENWICH PARK, MY SWEET GIRL, or WATCH ME DISAPPEAR
Suspense where you adore getting to know the characters, something Liane Moriarty and Sally Hepworth do so brilliantly
I want literary suspense as serious and topical as LONG BRIGHT RIVER, or as playful and satirical as SOCIAL CREATURE.
I'd especially love to see these stories told from diverse perspectives!

In non-fiction:

Memoirs that read like tightly plotted and suspenseful fiction a la BRAIN ON FIRE, WITHOUT YOU, THERE IS NO US, WILD GAME, or THE FACT OF A BODY
True crime that feels as immersive and suspenseful as the best thrillers. SAY NOTHING, I'LL BE GONE IN THE DARK and RED NOTICE are some recent favorites.

For YA:

I am a sucker for anything that can be (accurately) pitched as GOSSIP GIRL meets X, like ANNA K or THE THOUSANDTH FLOOR...
High-concept contemporary with a killer voice
Contemporary fantasy/speculative
Historical from unique perspectives and/or with a magical twist.
Always a plus if you can subvert the tropes of the genre!

#ownvoices! I'm committed to promoting underrepresented voices. I'm also always eager to read stories not set in the US.
But sometimes I surprise myself with what I fall in love with, so please do query me even if your manuscript falls outside these guidelines!
Submission Guidelines
Submissions should be emailed to hillary.jacobson@caa.com

Submissions should be emailed to Hillary.jacobson@caa.com. Any emails sent to my previous ICM email will still be forwarded.
Please send me your pitch and the first ten pages of your manuscript in the body of an email. I respond to every query, and my average response time is about a month.
Vital Info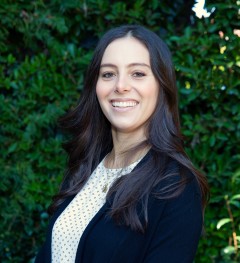 Favorite sub-genres: Feminism, Historical Fantasy, Humor, Literary Fiction, Speculative Fiction, Suspense, Upmarket Fiction

I'd like the next...
My favorites include...
All Time Favorites:

THE HISTORY OF LOVE by Nicole Krauss
ELSEWHERE by Gabrielle Zevin
HOMEGOING by Yaa Gyasi
THE MOTHERS by Brit Bennett
TRUE BIZ by Sara Nović
TRUE STORY by Kate Reed Petty
GONE GIRL by Gillian Flynn
THE GOLEM AND THE JINNI by Helene Wecker
AMERICANAH by Chimamanda Ngozi Adichie
A TALE FOR THE TIME BEING by Ruth Ozeki

My Upcoming Events: